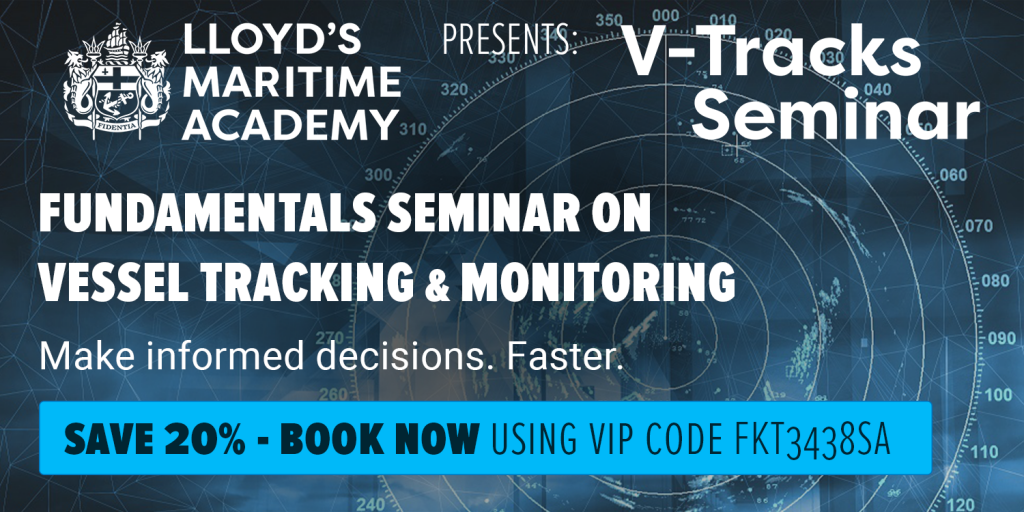 V-Tracks Seminar
5-6 December, London
Fundamentals seminar on vessel tracking & monitoring
Shiparrested.com readers SAVE 20%!
What will you learn?
Manage and Monitor Data
Obtain, verify and analyse vessel tracking data to improve operational performance and enhance decision making across your organisation.
Calculate risk
Build a clearer understanding of the operational and financial risks that can be predicted, avoided, and responded to thorough proper use of vessel tracking data and solutions.
Uncover Weaknesses
Learn whether vessel tracking data and systems you currently use are efficient or inefficient, and discover what you can do to ensure data and system reliability.
Build World-Class Knowledge
Familiarise yourself with the data, tools, and methods needed to build a comprehensive understanding of the global maritime environment – and how to capitalise once you have the know-how.
Data Share
Acquaint yourself with the global movements that are driving a safer, secure, and efficient maritime environment, and how you can contribute to it.
Gain Competitive Advantage
Use tracking and monitoring data to benchmark your performance against your competitors, and learn how to capitalise on opportunities as they present themselves.
For more information, agenda & speakers line-up visit the event website.