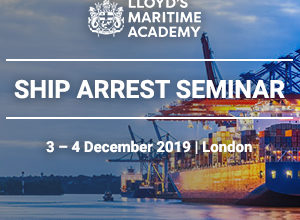 Lloyd's Maritime Academy will host its 20th annual Ship Arrest Seminar from 4 to 5 December 2019 at the Bonhill House in London.
Over the course of two days, participants will discuss alternatives to arrest, understand how a bunker supplier should best secure their credit, hear the banker's perspective examining bankruptcy, creditor claims and secured lender claims.
Top reasons to attend
The revamped agenda includes presentations on new legislation and current cases.
A variety of high-calibre international advisors will provide advice on global ship arrest hot spots including Australia, Belgium, China, France, Ghana, Panama, Singapore and wider Asia, South Africa, Turkey and USA.
The course is essential for anyone willing to arrest or release a ship worldwide including maritime lawyers, banks, insurers/ P&I Clubs, shipowners, ship managers, bunker suppliers and ship agents.
Practical workshop on establishing and handling a ship arrest: participants will discuss how to make the right choice of law in ship arrest, where best to arrest, and analyse the relative success and potential outcomes.
Upon completion of this course, attendees can claim a CPD certificate and a digital attendee badge.
Click here to view the full agenda, confirmed speakers and to register: http://bit.ly/2kLFZlh. Shiparrested.com members can save 20% on the standard rate with VIP code FKT3595SA.
Booking as a group? The third and subsequent delegates will receive a 50% discount.
If you have any questions about the Ship Arrest Seminar, please do not hesitate to contact the organiser Viktoriia Derkach on +44 (0) 207 551 9620 or at viktoriia.derkach@informa.com.