9th Singapore Short Course: 15-26 May 2017 // Check out the IML website for all the details.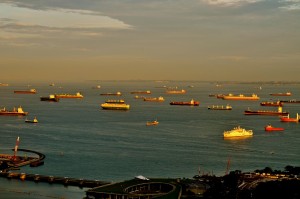 Now entering its 9th year, the Singapore Maritime Law Short course will take place 15-26 May 2017 in Singapore. This internationally renowned course offers two intensive working weeks of training on maritime law, by some of the most respected experts in the field.
The course speakers include leading scholars, experienced professionals and prominent legal practitioners; this fusion of academic excellence and practical know-how ensures both a rigorous examination of the most significant legal issues affecting today's shipping industry and affords an invaluable pragmatic advantage for its delegates.
The Singapore Short Course has broken new ground with an innovative approach to legal training, shunning the passivity and strict formality of many purely lectured courses in favour of frequent case-studies, Q&A sessions and small group discussion, placing delegates in an environment where they are best able to engage with this ever evolving area of law. The provision of the highest calibre of the very latest legal materials positions delegates in the vanguard of developments in the industry, guaranteeing an enduring benefit for the participants and their employers.
Speakers from the Institute of Maritime Law
Professor Yvonne Baatz – Professor of Maritime Law
Professor James Davey – Professor of Insurance and Commercial Law
Professor Filippo Lorenzon – Professor of Maritime and Commercial Law
Professor Mikis Tsimplis – Professor of Oceanography and Maritime Law
Sessions will also be presented by a number of specialist speakers from legal practice
Course Venue
Royal Plaza on Scotts Singapore Hotel
25 Scotts Road Singapore 228220
DDI: (65) 6589 7714
Bookings and enquiries
For bookings or enquiries please contact:
Mr Alan Lim – alanlim@imlasia.org or
Miss Clare Brady – c.l.brady@soton.ac.uk
**Please note the Institute of Maritime Law reserves the right to cancel or postpone courses should a minimum number of delegates not sign up.**
This course is accredited by the Law Society of England and Wales Continuing Professional Development Scheme of 16 CPD hours and for 33 hours with the English Bar Standards Board.