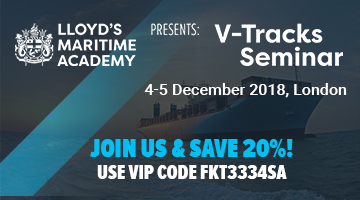 Preparations for the V-Tracks Seminar are underway, with the event set to take place in London on 4-5 December.
V-Tracks is a two day seminar designed to give you the practical knowledge of how to use, implement and optimise vessel tracking and monitoring solutions in your organisation
The agenda will focus the following topics:
Real life case studies of vessel tracking solutions
Strategies to managing and monitor data
Determining the ROI on vessel tracking systems
Using tracking and monitoring data to benchmark your performance
Be cyber safe – securing your data from hackers
The various uses of vessel tracking data to increase your business performance and operational efficiency
Click here to take a look at the full agenda and speaking faculty.
Who should attend?
–  Shipping sector
–  Insurance sector
–  Energy & commodities
–  Finance sector
–  Legal sector
–  Government and affiliated organisations
Shiparrested.com members can save 20% on the standard seminar rate using VIP code FKT3334SA at checkout.